Chinese and global brands are casting their eyes on young Chinese consumers as Millennial and Generation-Z consumers will become the main consumer group for businesses in the future. With burgeoning spending habits and the influence of the young generation, businesses are eager to explore ways to reach out to young consumers in China's market.
Millennials, those born between the early 1980s and mid-1990s, and Gen-Z, who follow the Millennials, have shared common traits – as they are tech-savvy, well-educated, and discerning consumers. They are dependent on mobile-based social media. Based on statistics, Gen-Z consumers will account for more than 55% of the consumption of luxury brands in China by 2025.
To engage emerging young Chinese consumers, your business needs to leverage various China marketing tactics – sharing immersive short videos, versatile content across various social media platforms, creating WeChat Mini Program, influencers' live-streaming – to interact with young generation and boost sales revenue growth.
NDN Group has successfully helped business clients to create a viral online campaign and engage young Chinese consumers across various platforms like WeChat, Weibo, Douyin and other social media platforms.
Click here for our free China marketing consultation to drive young Chinese consumers' engagement on your brand.
Short videos making forays into E-commerce
Short videos have exploded on Chinese social media namely Douyin as they can convey brand messages quickly and vividly, particularly as attention spans growing shorter among young consumers.
NDN Group's Shanghai team has worked with California-based wine brand Carlo Rossi to promote one of its renowned refreshing wine – with flavours of fresh strawberry, peach, and mixed berry – in China's market. To enable Carlo Rossi brand to stand out in the highly-competitive wine market on the mainland,  we have produced immersive videos to engage young female consumers to taste the wine.
We have collaborated with Jackie Ho, a two-time champion in Asia's bartender competition, to produce several sets of short videos on Carlo Rossi Ice and share tips for mixing cocktails. The videos were shared on Carol Rossi's WeChat Account and games were initiated to interact with Chinese consumers with prizes. As a result, the video clips went virally and the brand successfully engaged with female urban consumers.
Learn more about how we initiate viral online campaign for your business in China.
Gear content towards genuine consumers' engagement
Developing a well-thought-out Chinese content marketing strategy can be key to achieving success in China as young customers enjoy interacting with brands online and on social networks.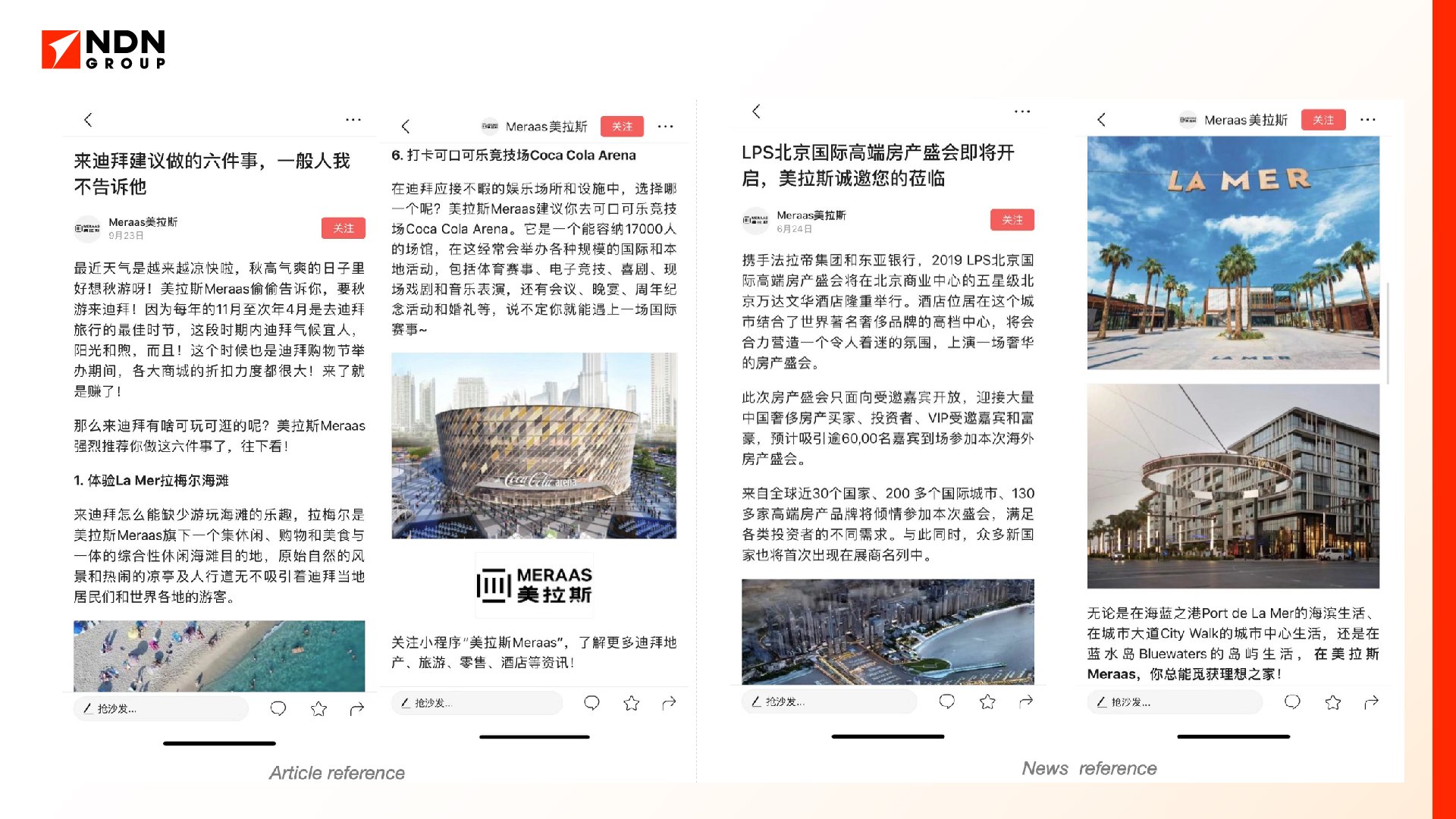 NDN Group has earlier worked with Dubai-based holding company Meraas – with a portfolio of landmarks and activity in tourism, hospitality, healthcare, tech, retail, leisure, and entertainment – to lure potential Chinese homebuyers and investors to purchase its properties in Dubai.
We have developed versatile content to engage prospective Chinese homebuyers and investors, including those affluent young generations who are interested in investing in overseas properties, on social media platforms. To connect with target Chinese audiences in content curation, we emphasized the messages that Chinese buyers can purchase dream homes in Dubai – where it is a wonderful place to travel, live and work. Apart from WeChat, Weibo,  messages have been posted on property websites namely Juwai, Glofang as well as popular forum Zhihu and news platform Jinri Toutiao.
Online ads were also pushed on dozens of media platforms including Douyin, Baidu, WPS and SelfieCity. As a result, the campaign successfully engaged potential Chinese homebuyers with over 10 million impressions.
Young consumers predominate WeChat Mini Programs
WeChat is already China's most popular social platform. There are now more than 700 million Chinese consumers, particularly Millennials and Gen-Z consumers, using WeChat Mini Programs to purchase products, book tickets for events or in-store experiences.
NDN Group has helped the Meraas develop a WeChat Mini-Site and WeChat Mini Program with a lot of novelty, sharing its brand story/values and fostering its online visibility among Chinese buyers and investors.
In the WeChat Mini Program, potential buyers scan a QR code and download brochures, floor plans and payment plans on Meraas properties. They can browse the real estate information and register as Meraas members, enabling the Dubai-based holding company to build its own Chinese customers' database to drive the sales of its properties in Dubai.
Rise of super-hosts in live-streaming
Live-streaming sessions have become increasingly popular in China in the last few years as consumers crave immersive experiences and personalised recommendations on products from Key Opinion Leaders (KOLs) or Key Opinion Consumers (KOCs).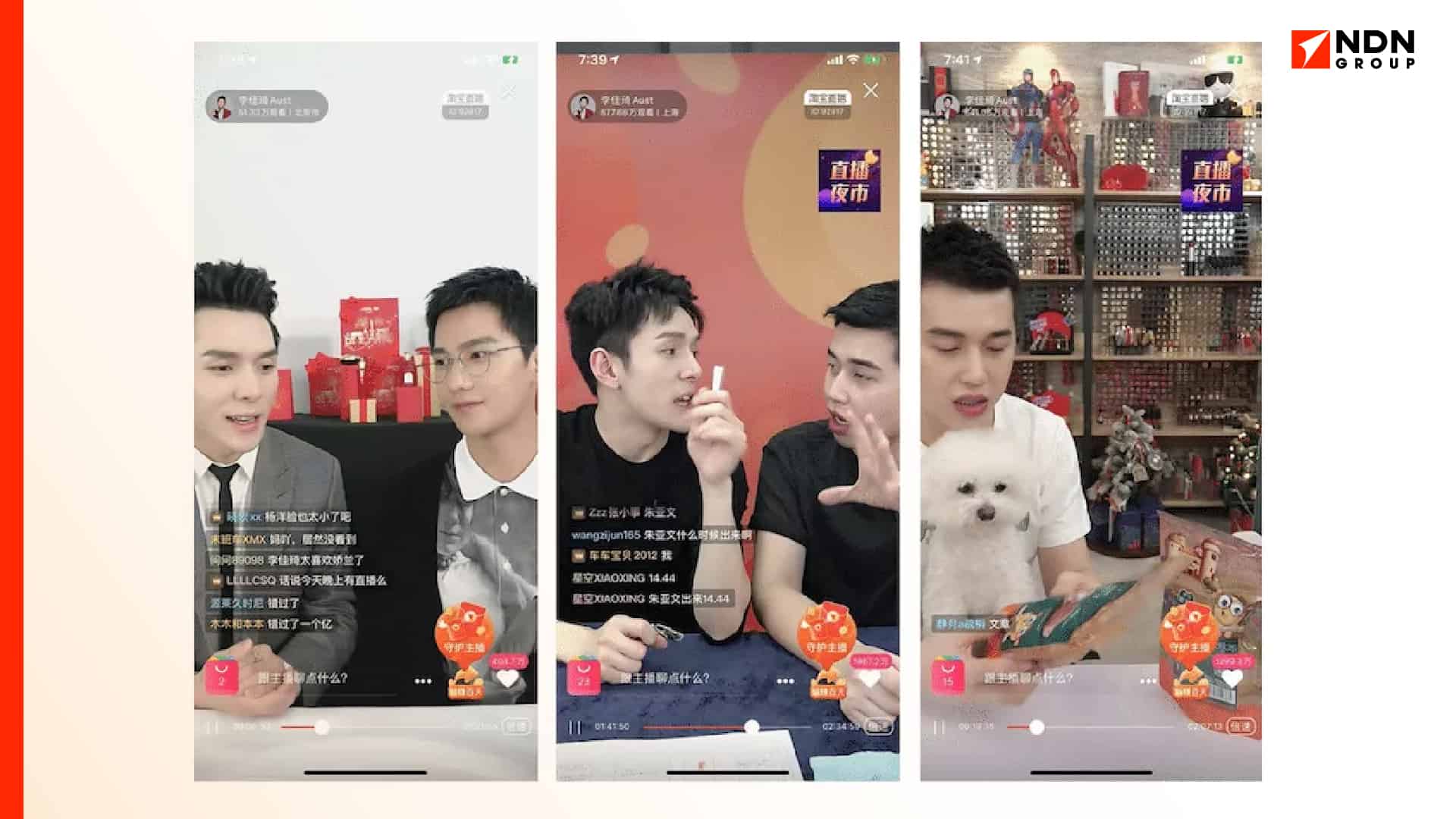 Through live streaming, super-hosts and influencers like Li Jiaqi – also known as "The Lipstick King" – can engage tens of millions of potential consumers per day. Live-streaming super-hosts employ a range of rewards, discount battles and games to connect with young consumers. Livestreaming adopt a flash-sale strategy, where each sale lasts for only a short time and the number of products available is limited.
Explore more how our influencer marketing boosts your brand's sales in China.
Mobile payment vigorous in China market
China has been taking a leading position in transitioning toward a cashless society. Due to the swift development of mobile payments such as Alipay and WeChat Pay, digital transactions have been made seamless for Chinese consumers.
Not only is China armed with millions of tech-savvy young consumers who rely on their mobile devices for purchasing products and making payment, but they are demanding simpler and faster ways to pay for a frictionless purchasing experience. Tourism, hospitality and retail businesses that offer mobile payments are at a clear advantage when it comes to engaging and selling to young Chinese consumers.
In conclusion, Millennial and Gen-Z consumers are becoming one of the most desired customer bases by brands in China and all over the world. It is crucial for Chinese and international brands to adapt their China marketing strategies to target these young Chinese customers.
Click here for free consultation on how our China marketing services drive young consumers' engagement on your brand.