Customer Experience is everything ­­and it is a mantra that every business knows. Focusing on Customer Experience (CX) strategies with User Experience (UX) and User Interface (UI) is one of the most crucial investment a brand should make in today's competitive business environment.
Exemplary CX strategies empower your brand to drive business growth and boost customer satisfaction, engagement and loyalty with hearty experience. It is getting harder to differentiate yourself from other businesses when every brand shares the great content online. Customer Experience is the perfect tool to enhance customer engagement, loyalty and conversion, helping your brand stand out from rivals to increase sales revenue.
Based on statistics, two-thirds of marketers revealed that they are competing with competitors primarily on the grounds of Customer Experience and support. About 70% of consumers recommend your business after a positive Customer Experience. Up to 75% of consumers are likely return to a business that offers excellent consumer experience, and 56% of clients recommend your company to family and friends.
CX, UX and UI driving forces for business growth
Customer Experience is synonymous with the impression you leave with your customers, resulting in how they think of your company across every stage and touchpoint of the customer journey. Exceptional Customer Experience strategies immerse customers to delve into a pleasant, seamless and intuitive interaction with your company as a whole. Superior Customer Experience builds a foundation of loyalty and improves customer acquisition as well as retention.
Yet, your business cannot have a superior CX without exceptional UX, and you cannot have a UX without a great UI.
UX is the process of researching, developing, and refining all aspects of a customers' interaction with your company and ensure that users' needs are met. UX is about how a user interacts with a company both online and offline, including customer service and other touchpoints, namely on websites and mobile apps. For instance, how easy is the checkout process when shopping online on your e-commerce website? Does an online banking app make it easy for customers to manage their accounts and money? Optimal UX ensures customers find value when they interact with a company's products or services.
The scope of UI involves all the visual designs, interactive elements of a product's interface — including buttons, icons, spacing and responsive design.
NDN Group has worked with renowned clients and brands in banking, insurance, finance, hotel, retail, and many other industries, offering superior Customer Experience, User Experience and User Interface services/solutions to clients in Hong Kong and the region.
Book a consultation for our Customer Experience, UX/UI services and solutions to enhance customer satisfaction and grow business.
Leveraging optimal CX and UX/UI to immerse customers  
Customer Experience is perhaps the most important aspect of a successful business. Customer satisfaction has a secure connection with business success. Fantastic customer satisfaction helps to generate more revenue, strengthen brand reputation, and grow business. Our CX/UX solutions are delivered to enhance customer engagement and loyalty, thereby helping your brand stand out from rivals and increasing sales revenue.
1) CX and UX solutions unique to every industry and business goals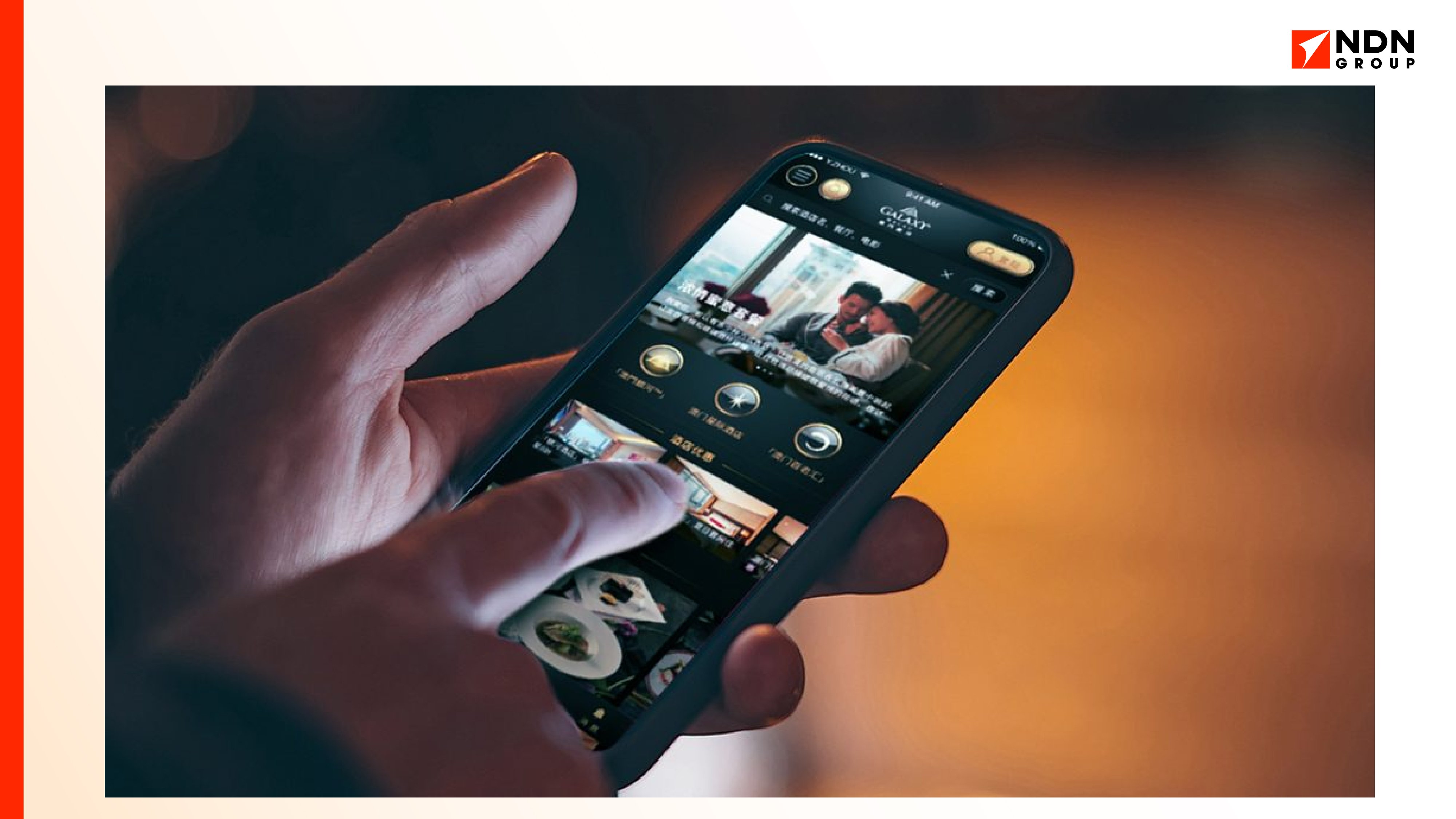 NDN Group's CX/UX solutions are tailor-made to meet unique and specific needs and compliance in each industry, along with satisfying customers' deep-rooted desires and the application of top-notch technology.
From user personas and journey mapping to content strategy, wireframe to visual design, we help business tell their brand stories to engage customers and achieve their business goals. We have also initiated UX/UI workshops and trainings for enterprises to enhance their CX and UX strategies.
NDN Group has worked in tandem with a world-class hotel group in Macau to build a powerful mobile app to offer best-ever Customer Experiences to VVIP guests and mass customers. The app is designed to connect with hotel guests and promote exclusive offers on accommodation, dining, shopping, entertainment, as well as shares travel information. Before adopting the UX methodology, the world-class hotel did not have any consolidated platform that allows customers to access happenings of the hotel, members points and rewards.
Having leveraged our optimal 5-stage UX methodology embracing elements of 6 Human Needs, the hotel's mobile app is curated to provide perfect Customer Experience for VVIP guests and mass customers.
The mobile app has been massively downloaded by VVIP guests and customers and it has become a digital companion for guests before and during staycation at the hotel. The hotel reaches out to guests from every corner of the world, increasing customer acquisition and retention to boost revenue growth.
2) Five-stage UX Methodology epitomizes empathy and customers' pain points
From user personas and journey mapping to content strategy, wireframe to visual design, we help clients to build superior UX/UI with our five-stage methodology.
At the Empathize stage, we gain an empathetic understanding of the user's pain points and frustrations we are trying to solve, typically through stakeholder interviews, market research, offsite observation, questionnaire, individual interviews and group workshops. It is crucial to gain insights into users' needs.
At the Define stage, we help your brand create personas and customer journey mapping before proceeding to ideation. It helps provide an in-depth understanding and insights of who your customers are, what they need, and how they interact with your business across all touchpoints.
At the Ideate stage, your business is encouraged to venture away from the norm and to think outside the box. You will hold ideation sessions to generate as many ideas as possible from brainstorming, mind-mapping to roleplay.
A Prototype is a scaled-down version of a product or feature and you can turn ideas into something tangible which can be tested on users. Businesses can gather feedback and ensures that the final design solves the user's pain points and problems.
During the Test stage, you will put your prototypes in front of real users and seeing how they get on.  Observe your target users as they interact with your prototype and gather feedback on how your users feel so as to improve and finalize the final products.
These stages are different modes and help gain the deepest understanding of users and what ideal solution would be.
3) Six Human Needs reflect customers' deepest desires
Six Human Needs influence customers' deepest motivation and determine how they go about prioritizing decisions and actions throughout their lives.  Our UX methodology embraces the elements of six core Human Needs – Certainty, Variety, Significance, Love, Growth and Contribution.
For Certainty, customers crave the need for stability, pleasure, security, comfort, predictability. For Variety, customers want to break free from the humdrum of life and desire for excitement, adventure and change. For Significance, your customers want to feel like they matter. Make it clear how your products make your customers feel unique, significant and special.
For Love, people all want to feel connected with intimate and loved by. For Growth, customers want intellectual and spiritual development and they are willing to give beyond themselves and care, protect and serve others for Contribution.
Understanding your customers' emotions and deep-rooted psychological desires can help place empathy at the heart of your business. By tapping into these psychological triggers, your business can market in more powerful ways and find a true connection with customers and shape every decision and action.
In conclusion, exemplary CX strategies empower your brand to drive business growth and boost customer satisfaction and loyalty. Businesses need to invest time and money to create exceptional CX and UX/UI strategies. The investment will pay off in higher customer conversions, better customer retention, and increased sales revenue.
Book a consultation for our Customer Experience, UX/UI services and solutions to enhance customer satisfaction and drive business growth.