China's digital marketing is an essential element for mainland and global businesses looking to tap into the Chinese market. With 800 million active internet users, China market is a catalyst for business growth. It is critical for businesses to use China-specific digital marketing tactics to reach out to Chinese consumers.
The Chinese online ecosystem is unique and ever-changing. Chinese consumers use the web and interact with marketing content in completely different ways to Western consumers. They are willing to pay more if the brand can bring them prestige and respect among their social circle.
NDN Group's Shanghai team offers expert solutions to businesses around the world. Our team take a deep dive into your business and determine the optimal online channels and digital strategies for promotion in China. We help build an emotional connection with your brand, grow brand awareness, loyalty and generate a lead and conversion on your brand's products and services in China's market.
Book a consultation for our China marketing services to drive your brand engagement and sales growth.
Fostering brand engagement and content on social media
Social network has become an important way for consumers to obtain information in China. Social media plays a crucial role for businesses to accelerate business expansion and growth in China market. China has its own social media, such as WeChat, Weibo, QQ, Meituan-Dianping, Douyin, Xiaohongshu and others.
No matter which platform you choose to do your branding on Chinese social media, high-quality content that users repost or share is the most important element. Every piece of content is unique, informative and that will engage followers.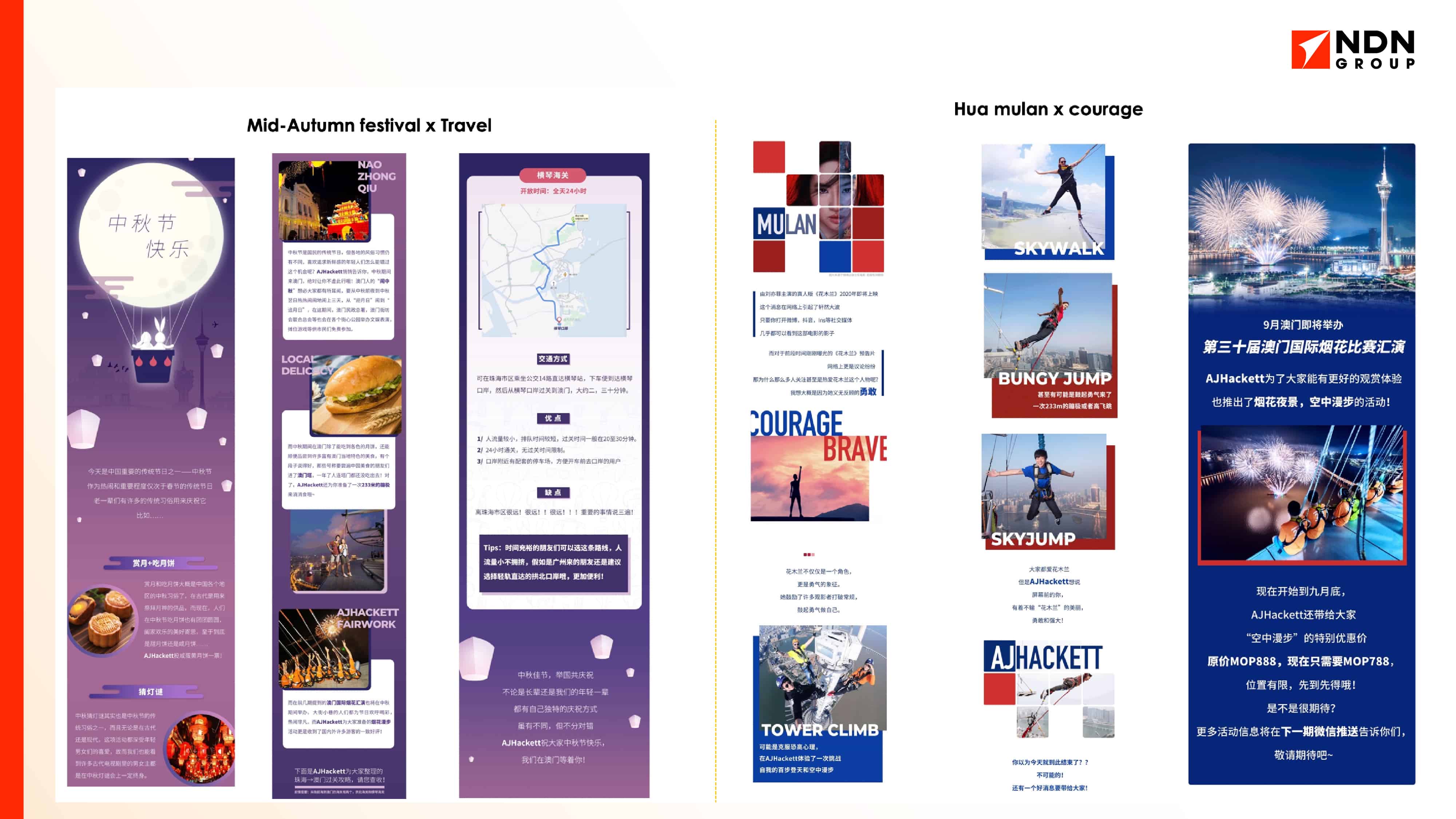 WeChat and Weibo are the two largest social networking platforms in China. They both exert significant influence in Chinese society and play an indispensable role in modern life. NDN Group has worked with AJ Hackett Macau Tower to curate content that engages Chinese young people to delve into the thrill of Bungy Jumping, SkyWalk and SkyJump on diverse social media channels.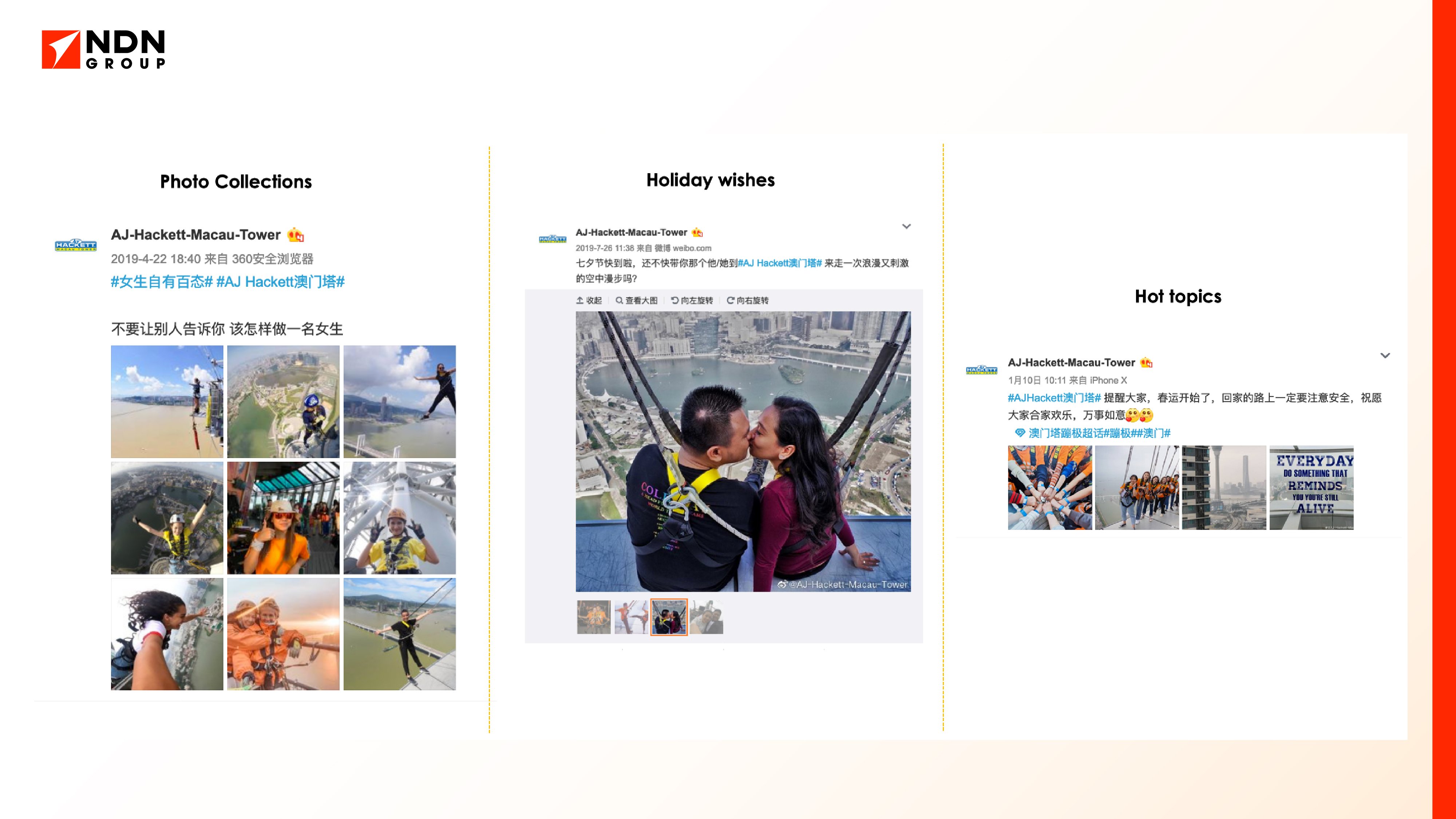 We also posted feeds across other social media namely Weibo – which is suitable for initiating viral campaigns or contents to boost brand awareness extensively. Adventure lovers enjoy the thrilling games during special seasons and festivals for celebration and immerse in the once-in-a-lifetime experiences.
Also, we designed and initiated a WeChat Mini Program for AJ Hackett Macau Tower to incite young people to delve into the thrilling games and drive higher conversion rate. Players can now purchase tickets using WeChat Pay on mobile, play games and learn more about Bungee Jump and other exciting games within AJ Hackett's WeChat account. To bring more digital consumption experience for young players, booking and payment gateway have been incorporated in the WeChat Mini Program.
All AJ Hackett's posts on Chinese social media platforms received 10 million exposures among young Chinese audiences within a year. AJ Hackett's entertaining video clips on bungee jumping went viral and achieved top search rankings in Douyin while the number of fans grew by 250% significantly.
Influences of KOLs and KOCs enormous in China market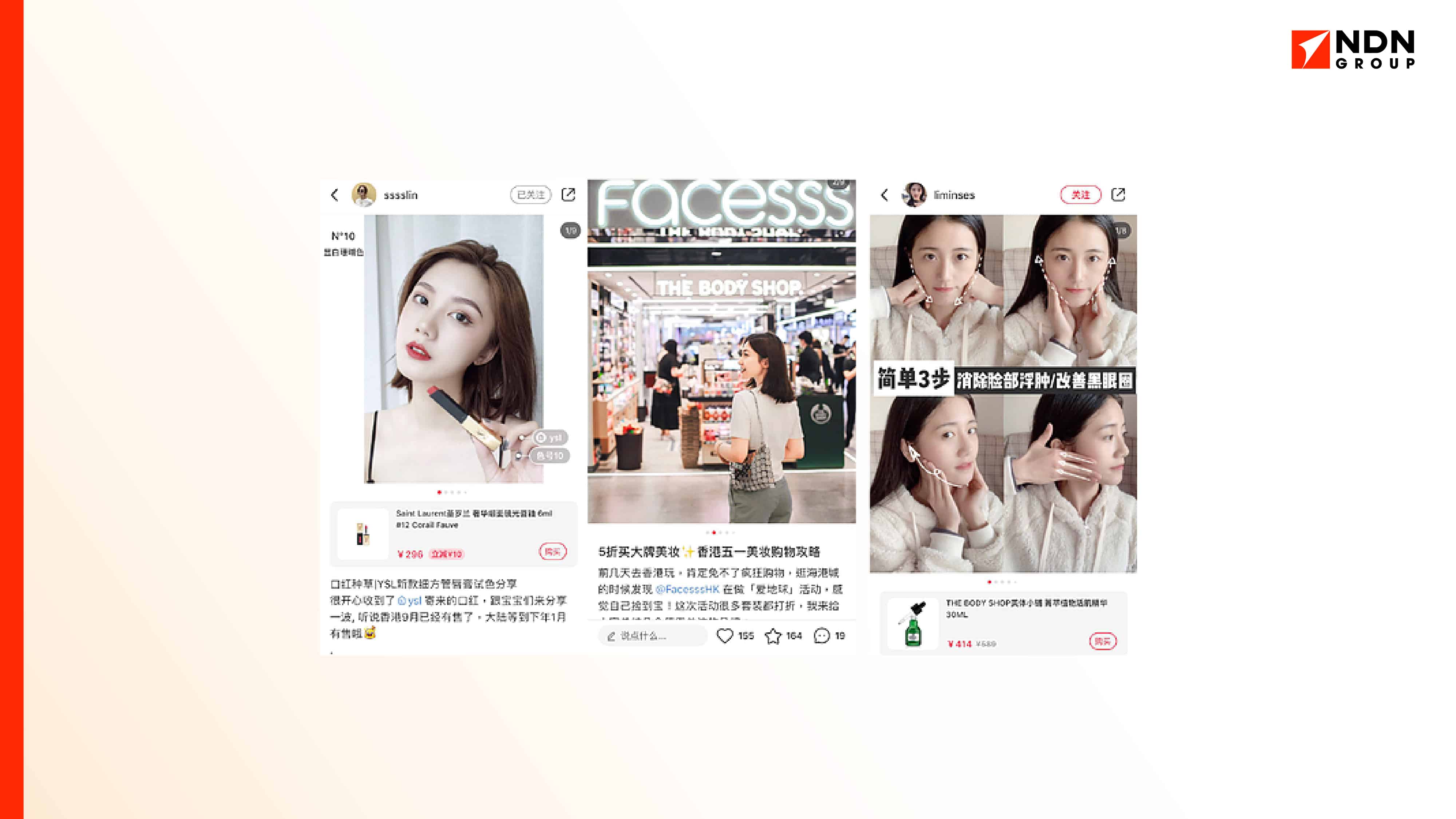 A successful influencer marketing strategy helps your business increase brand exposure, build authority, and connect with new audiences. It drives traffic to your site and leads new customers to your products and services. Chinese consumers have more trust in KOLs (Key Opinion Leaders), whereas KOCs (Key Opinion Customers) has become a new trend for brands to foster brand engagement in China's digital landscape.
While it is tempting to court the KOLs with the biggest followings for endorsements, more brands have recognized the value of KOCs. KOCs are first of all consumers who decide themselves which product they want to try and review. The size of their audience does not matter for this type of micro-influencers. As their expertise is to give reviews, their voices are more authentic and customers refer to their reviews.
Your brand can invite KOCs with the objective of understanding their feedbacks and improve your brand presence and visibility online Optimize your product marketing plan by involving new KOCs to review your business's latest products.
Short-video platform Douyin taking the world by storm
Having taken China and the world by storm, Douyin (known in the West as TikTok) is China's hottest short video app, with more than 400 million daily users. This is the social media platform for Generation Z and Millennials, with over 70% of all users under 24 years old and 90% of all users under 35 years old. Douyin's short videos resonate with China's young and affluent consumers, enabling your brand to stand out and generate exponential business growth in China's market.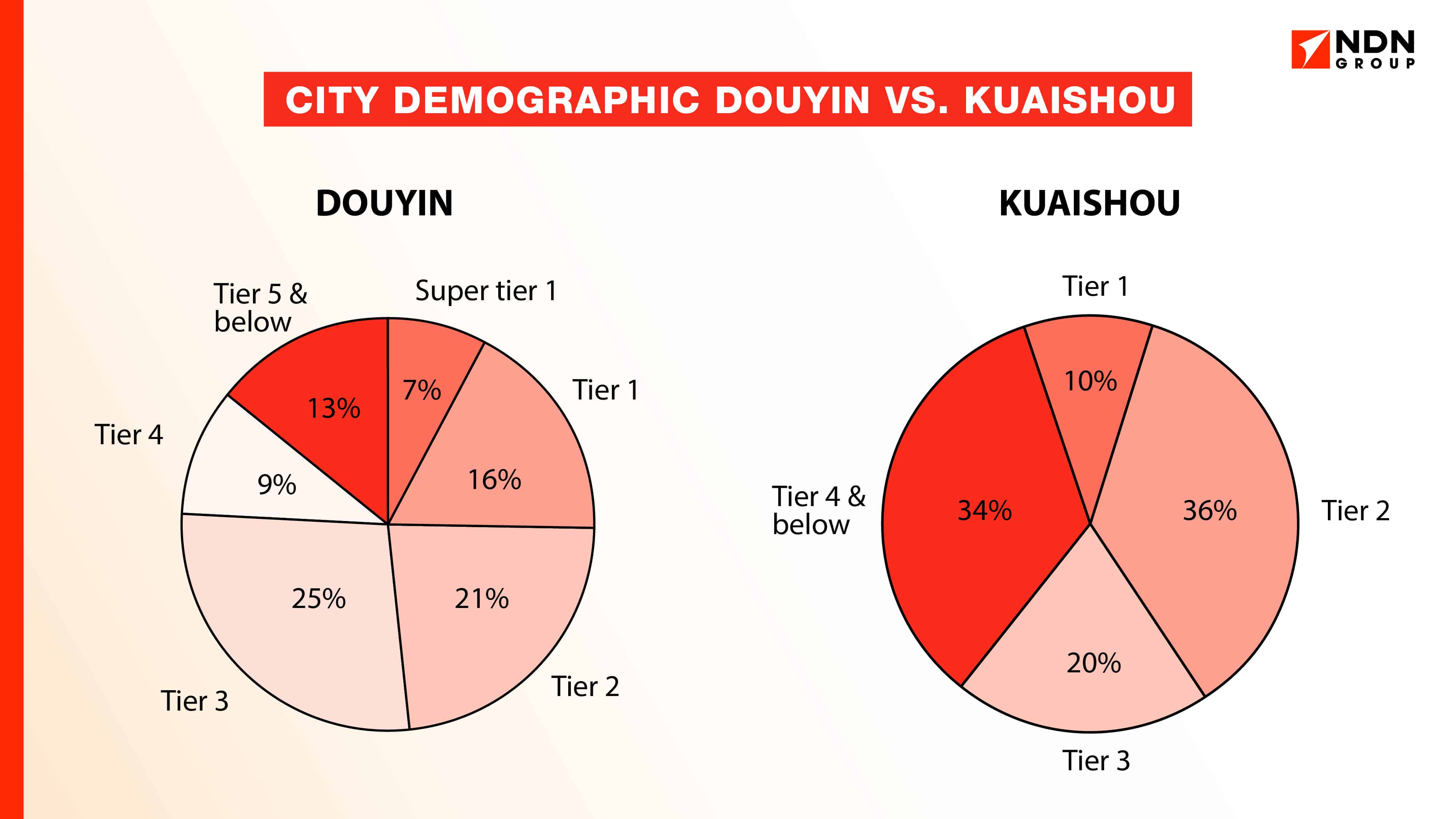 Douyin users are also well distributed across China, with 23% of users living in Tier 1 cities, and 47% living in Tier 3, Tier 4 and Tier 5 cities. As compared with Douyin, Kuaishou is a short-video app, though its userbase differs from Douyin in that it is more popular in lower-tier cities, with only 10% of its userbase coming from Tier 1 cities and 54% in Tier 3, Tier 4 and Tier 5 cities.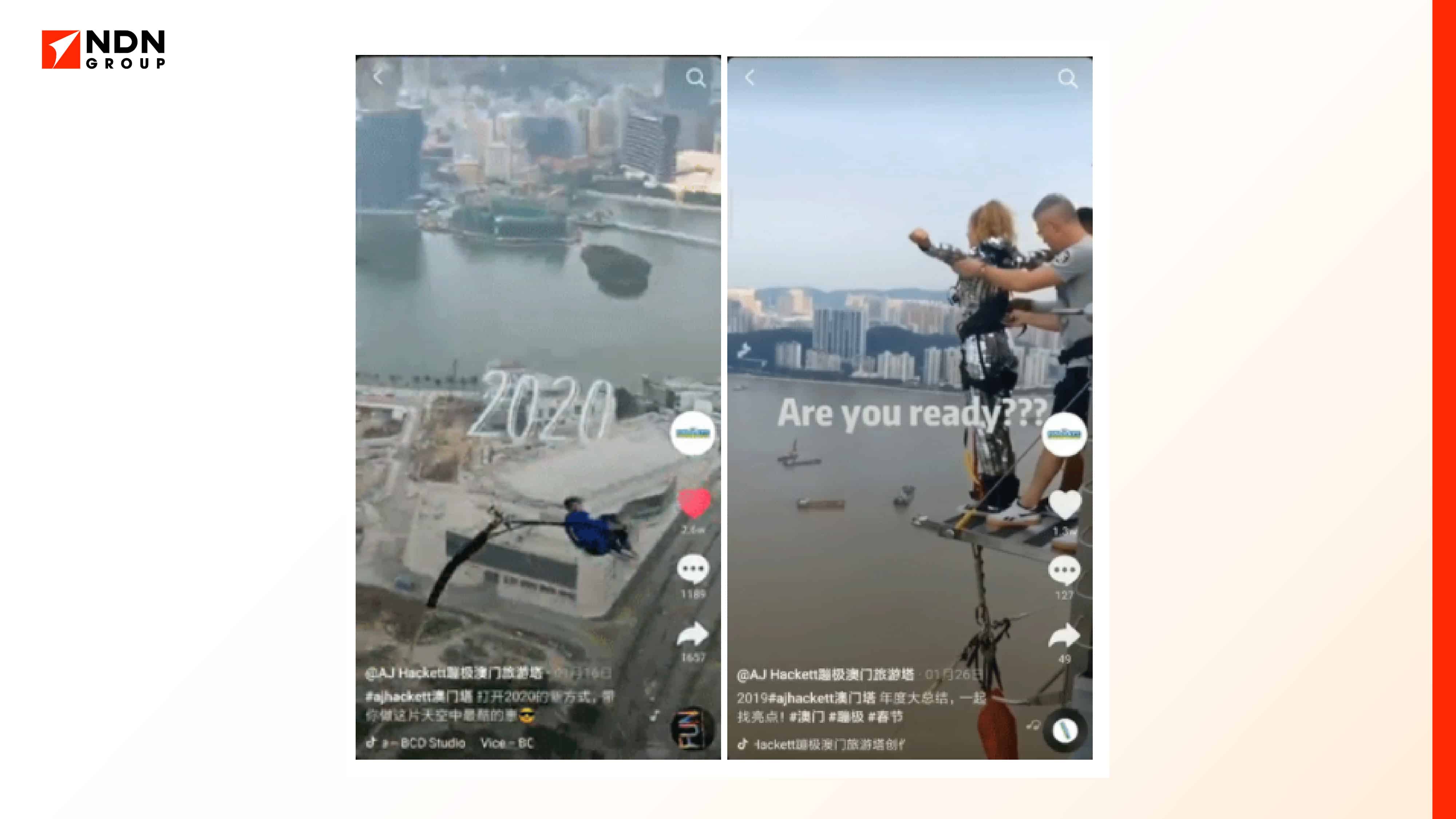 Videos on Douyin are full-screen and vertical, meaning they take up your entire phone screen, making the experience extremely immersive and addictive. Close ties with KOLs contribute hugely to the growth of Douyin's popularity.  Instead of aiming for the most expensive influencers, brands can work with many micro-influencers, hoping one of the posts to go viral. This strategy will generally bring higher returns than working with a single large influencer.
Explore more on how our China marketing services empower your business reach out to Chinese consumers.
Leveraging Meituan-Dianping to reach Chinese consumers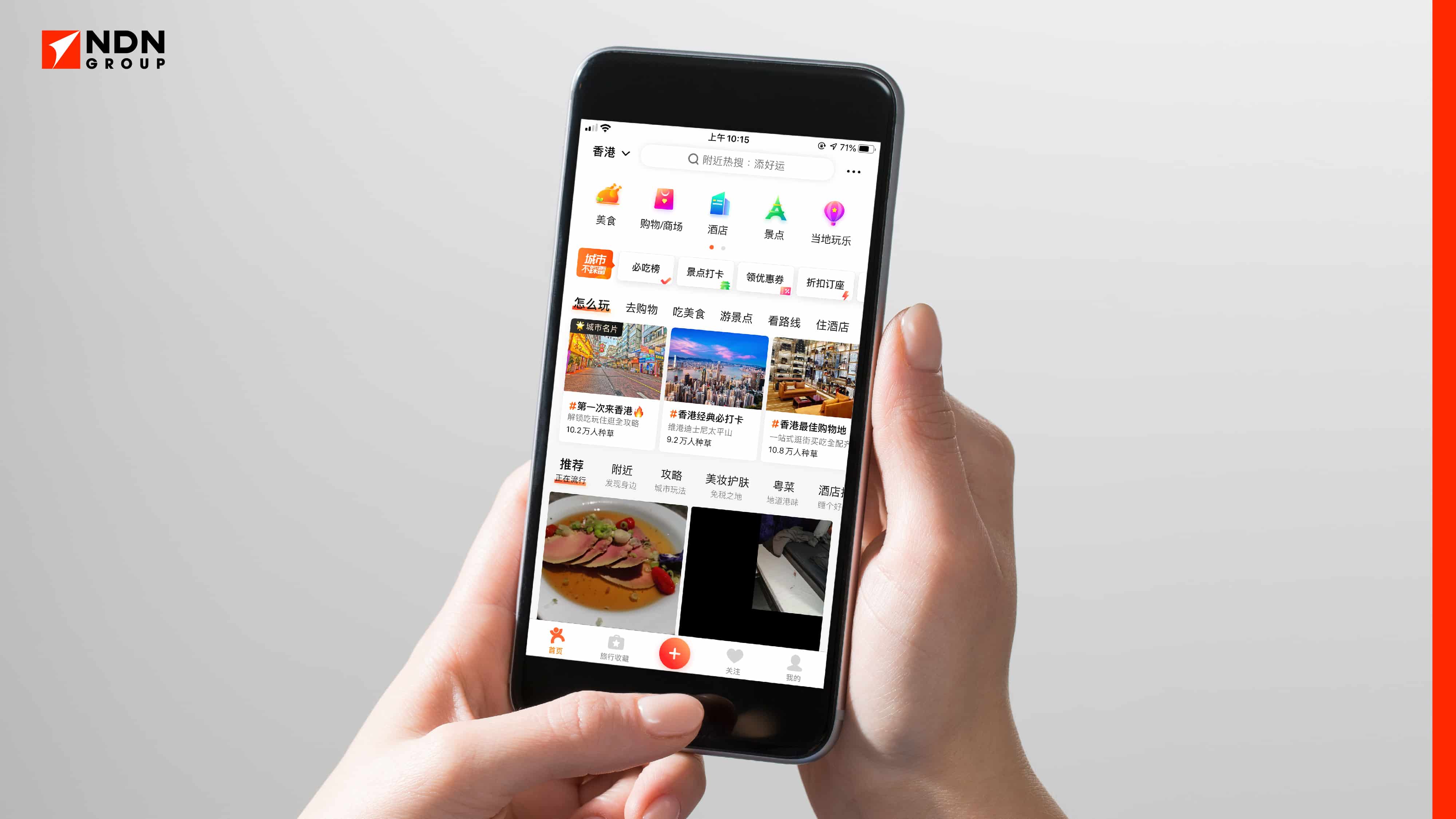 Your business can even take advantage of Meituan-Dianping to establish a market presence and reach Chinese customers. The Meituan-Dianping platforms are not only limited to restaurants as users can also post reviews and enjoy discounts on F&Bs, bars, retail shops, travels, hotels, and so on.
Meituan Dianping has acquired a large database of information on its 260 million active users, namly their demographics, location, consumption behaviors. The platforms give customers access to a spectrum of location-based services. As such, it helps establishes a one-of-a-kind, geo-specialized customer profiles for businesses to match the demands of target markets.
NDN Group has partnered with Meituan-Dianping to empower your business to reach over 250 million active users across 200 Chinese main cities and stay on top of the game.
Live-streaming key to brands' social marketing strategy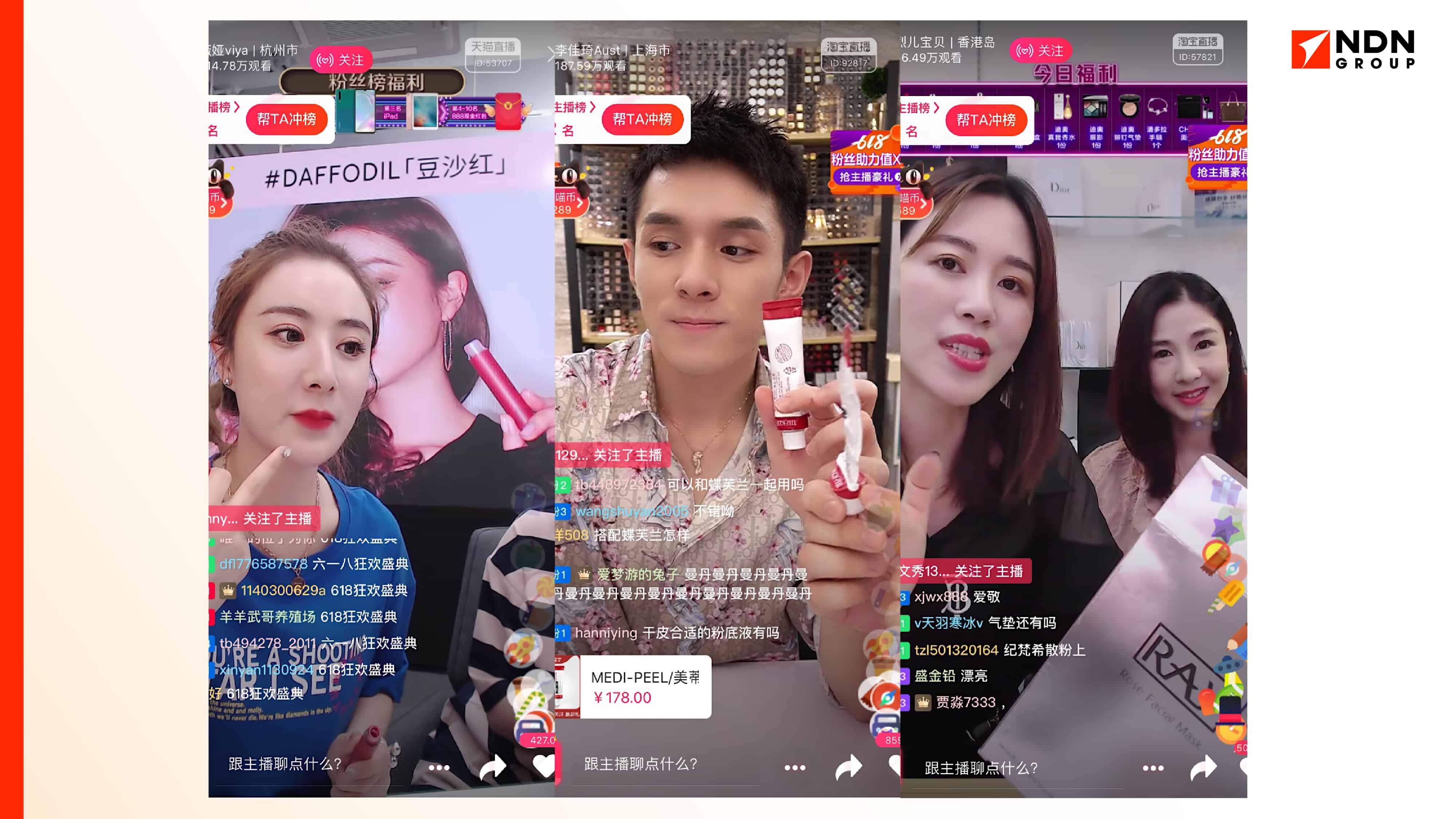 Live video streaming is becoming more popular in China, particularly amongst younger internet users. Its popularity is also rapidly growing, which could present some fantastic opportunities for companies to reach target customers. Check out local apps such as Meipai and Douyu TV as well as live streaming services through Taobao and Tmall. Make sure your content is captivating for Chinese audience and engage KOLs to present your live content.
In conclusion, it is crucial for businesses to use China-specific digital marketing tactics to reach Chinese customers. Leveraging online channels and social media to connect with consumers will help you to increase your brand and ultimately boost sales growth in China market. Our team have the local knowledge, experience and expertise to power up your business to succeed in China.
Book a consultation for our China marketing services to scale your business in China.