Content marketing is an important part of every business, especially when a business is establishing a personal brand. Powerful content marketing strategies can skyrocket your business growth sharply and behind every reputable business and brand is valuable content that connects with their target customers.
As your content marketing strategies mature, you will garner more inbound website traffic and conversion, fan base engagement, and subsequently lure more paying customers. Content marketing costs 62% less on average than other tactics but triple lead generation and conversions.
Your business can embrace five content marketing strategies to skyrocket your business growth. These five strategies are manifesting content that resonates with your target audiences and customers, leveraging high-quality content in each stage of the marketing funnel, initiating SEO-geared content strategy, omnichannel content marketing and data-driven approach on content creation.
NDN Group has helped our clients develop content marketing strategies for gaining more lead generation and conversion, boosting organic website traffic, fostering brand awareness and engagement, and increasing fan base growth.
We have helped a global insurance brand to build SEO and content marketing strategies and maximize its lead generation and conversion by 300%. When your content marketing strategies stand out, you will garner more inbound website traffic, build better customer relationships, and attract more paying customers.
Explore more on our content marketing services.
1. Content marketing strategies resonate with target customers
Content marketing is a big-picture plan for all of your brand content. Businesses need to understand audience segments and customer personas, thereby developing content that resonates with target audiences.
Businesses create an in-depth buyer persona and segment customer data to build specific target audiences. Your business can understand who you are selling your products and services to and aims content at the target customers.
Develop the great strategies/ideas on content curation and check your competitors' sites to see what type of content is working for them. Track and analyze content performance to increase your brand awareness and engagement.
NDN Group has helped the global insurance brand in Hong Kong to curate content marketing strategies to boost its business growth within 3 months. We have worked in tandem with the insurance brand to create diverse customer personas, build a blog site, and curate SEO-friendly and medical and health-related blogs for target customers.
Meanwhile, we have curated viral content and pushed those blog stories on the brand's social media platforms namely Facebook. All traffic is diverted to the brand's blogsite on the brand's webpage and tens of thousands of followers can access a wide array of its insurance policies. As such, it has led to a 300% growth in lead generation and conversion over the brand's insurance products.
 2. High-quality content works best in each stage of marketing funnel
Content marketing plays a big role during each stage of the marketing funnel. As content marketers, you need to understand what content strategies work best in each stage of the marketing funnel that take as many leads as possible and convert them into your customers and clients.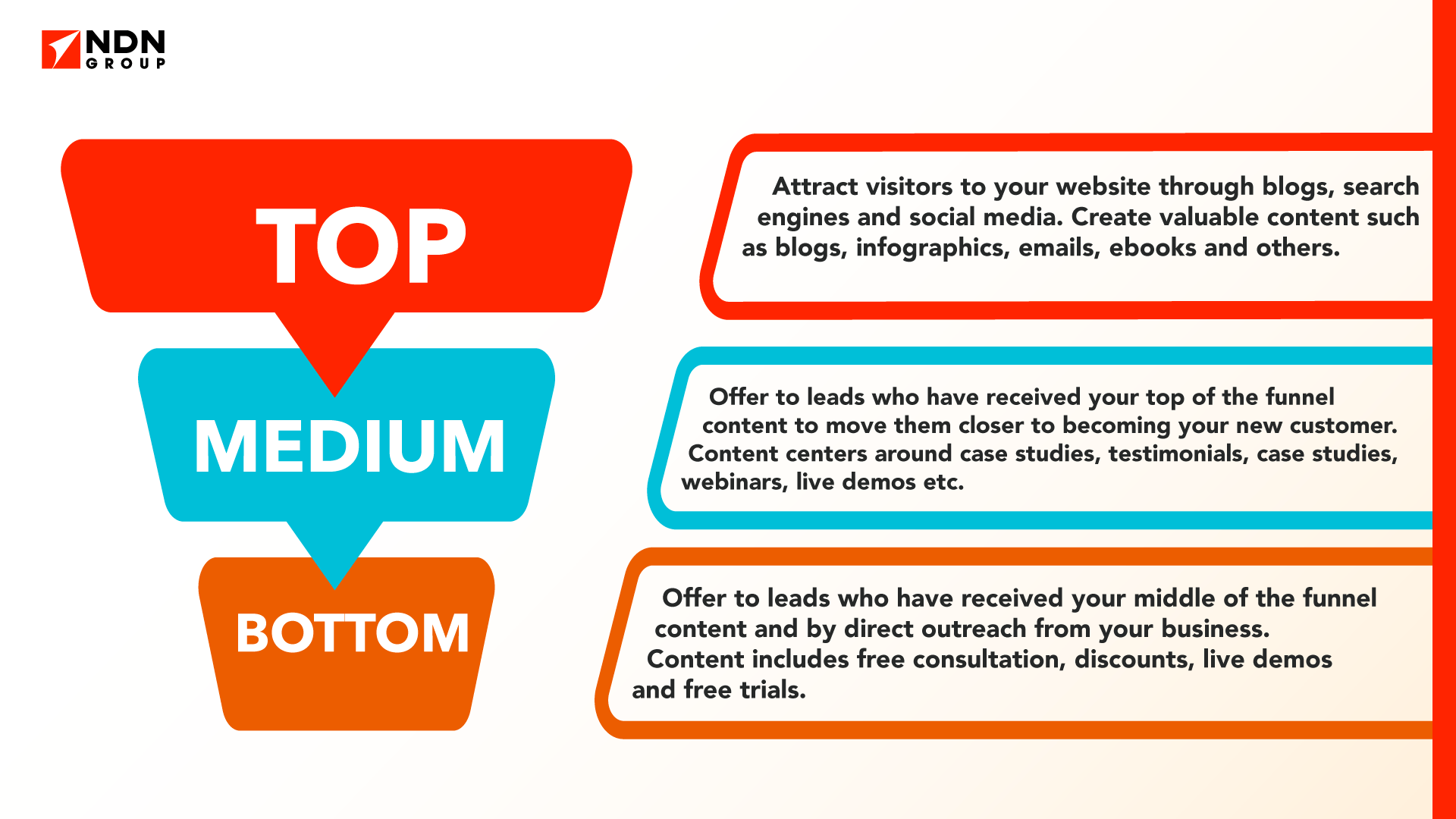 The top of the funnel is the first stage where your business captures target customers' attention via blogs, infographics, emails, and others.
The middle of the funnel converts site visitors to become closer to your customers via content, namely testimonials, case studies, webinars, live demos. The bottom of the funnel convinces leads to buy your products or service via a free consultation, discounts, live demos and free trials. Disseminating content to various marketing channels is a good way to engage your target customers and achieve business goals.
3. SEO-geared content strategy boosts inbound traffic significantly
Having curated exemplary content strategies and assets, your business needs to build powerful SEO-geared content strategy to enhance inbound organic traffic to the website. Organic website traffic is a key metric to sustainable business growth and long-term success.
Having been co-founded by NDN Group, Insurtech YAS has leveraged an exemplary SEO content strategy to boost its organic traffic growth on the website as much as 270% within two months.
YAS manifests exemplary SEO keyword research and search trends, tailors SEO-friendly content, and optimizes rankings in search engines.
NDN Group has helped business clients analyze opportunities based on search volume, keyword difficulty, and traffic value, as well as prioritize SEO keywords to boost the rankings and organic traffic to their websites.
Click here for our free consultation on SEO and content marketing services.
4. Omnichannel content marketing creates immersive experiences at touchpoints
Omnichannel content marketing aims to create a seamless experience across every interaction that a customer has with a brand, whether on websites, social media platforms, designs, display ads, videos, and others.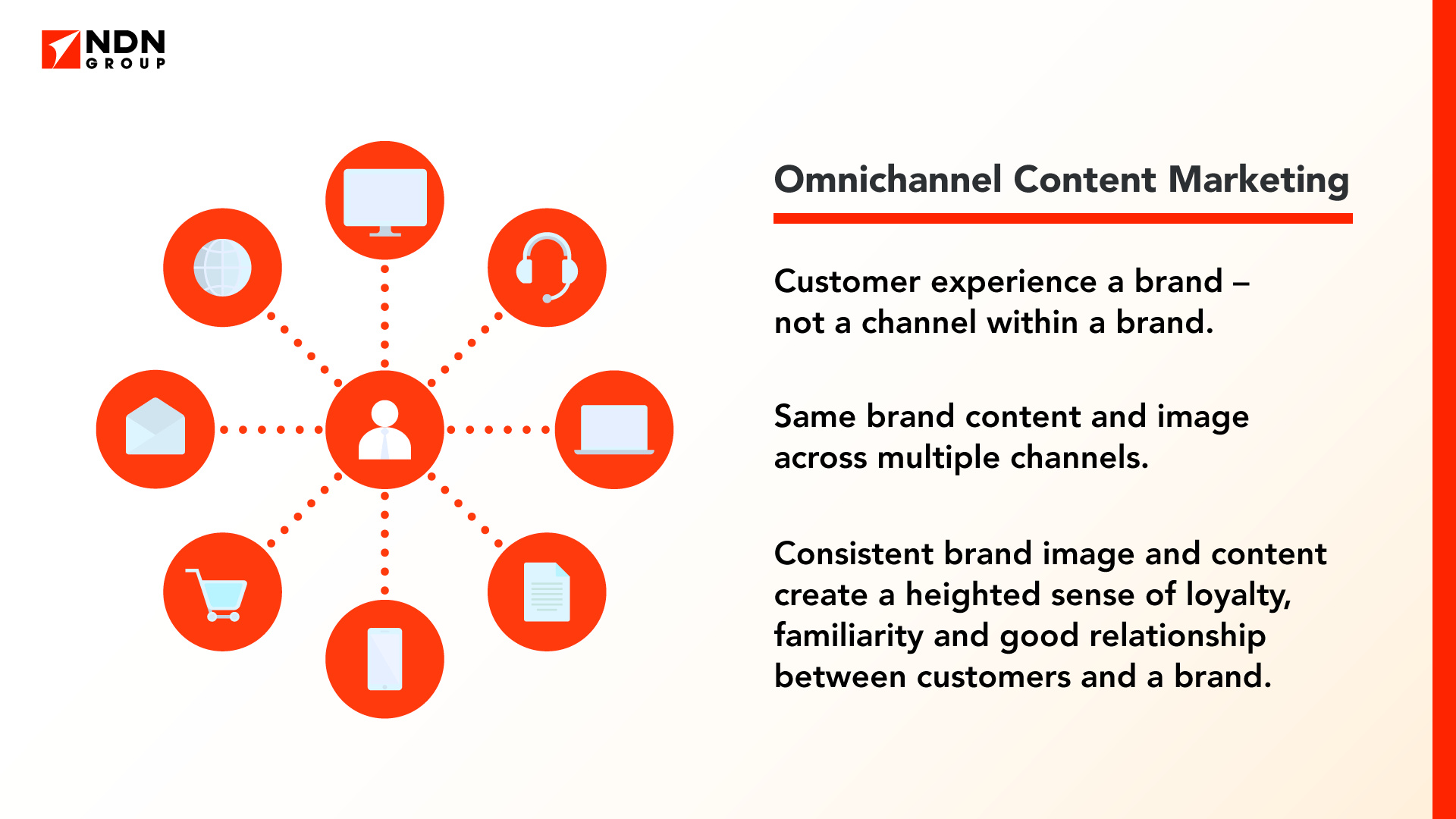 NDN Group has helped a global sandwich chain in Hong Kong to leverage O2O (Online-to-Offline) campaign to engage the city's millennial customers. We personalized and immersive content at all touchpoints on website, online and offline platforms, in-stores, and Points of Sale materials. We initiated thematic marketing campaigns on social media platforms, namely Facebook, Instagram and YouTube, to generate buzz in omnichannel.
With our geo-fencing technology, we helped the sandwich chain to push online ads targeting those young customers based on their geographic locations, bringing foot traffic into the sandwich chain's restaurants. As such, the chain has recorded a 15-30% growth in sales revenue and franchise business within 2-3 months.
5. Data analytics drives brand engagement and fan base growth
Businesses leverage data analytics and metrics to make content resonate with target audiences and boost fan base growth. Your businesses can leverage using customers' data insights – demographics, geo-locations, purchase channels, customers' interests and preferences – to boost brand engagement and fan base growth.
NDN Group helps transform granular data into reliable social intelligence from various sources, namely social platforms, mobile channels and influencer networks. This can help fine-tune your content creation strategy to ensure that they are properly calibrated to achieve to increase brand awareness, engagement and followers' growth.
There are many content marketing tactics such as live video content and voice search and numerous content marketing automation tools. Content marketing is one of the best-lit pathways to skyrocket your business growth. It takes planning, creativity and some experimentation to see what works for your brand and skyrocket your business growth.
Take bold action for our free consultation on content marketing services.